KOG Preschool Playground Improvement Plan
KOG Preschool has been presented with a phenomenal opportunity! As part of the master plan to improve the church grounds, King of Glory Lutheran Church wants to include improvements to the preschool playground. The playground has not had a substantial update in at least fifteen years. It is long overdue for some upgrades as playground standards and equipment have changed significantly over time.
The playground is the main area where children build their gross motor skills such as climbing, running and swinging, which in turn allows the children to build and strengthen their muscles. It is also a place where children have the freedom to socialize, regulate their emotions, and enjoy the outdoors.
Current playground (right)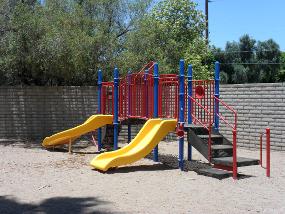 The equipment items to be added include, but are not limited to:
Stationary See Saw
New Balance Beam
Freestanding Sand Box
New Playhouse
Rubber Mulch/Poured Rubber
New Banners
Outdoor Sensory Table
Update on April 13, 2021:
We are in the process of obtaining bids for the renovation work. We hope to have them by the end of April and be able to review them then. We are also at 39% of goal to raise $40,000 to fund this project. Stay tuned for more updates.
If you are interested in helping support the Playground Improvement Plan here at KOG Preschool, please go to www.kogaz.org and click on the "Give Online" tab.
We appreciate and value your support!